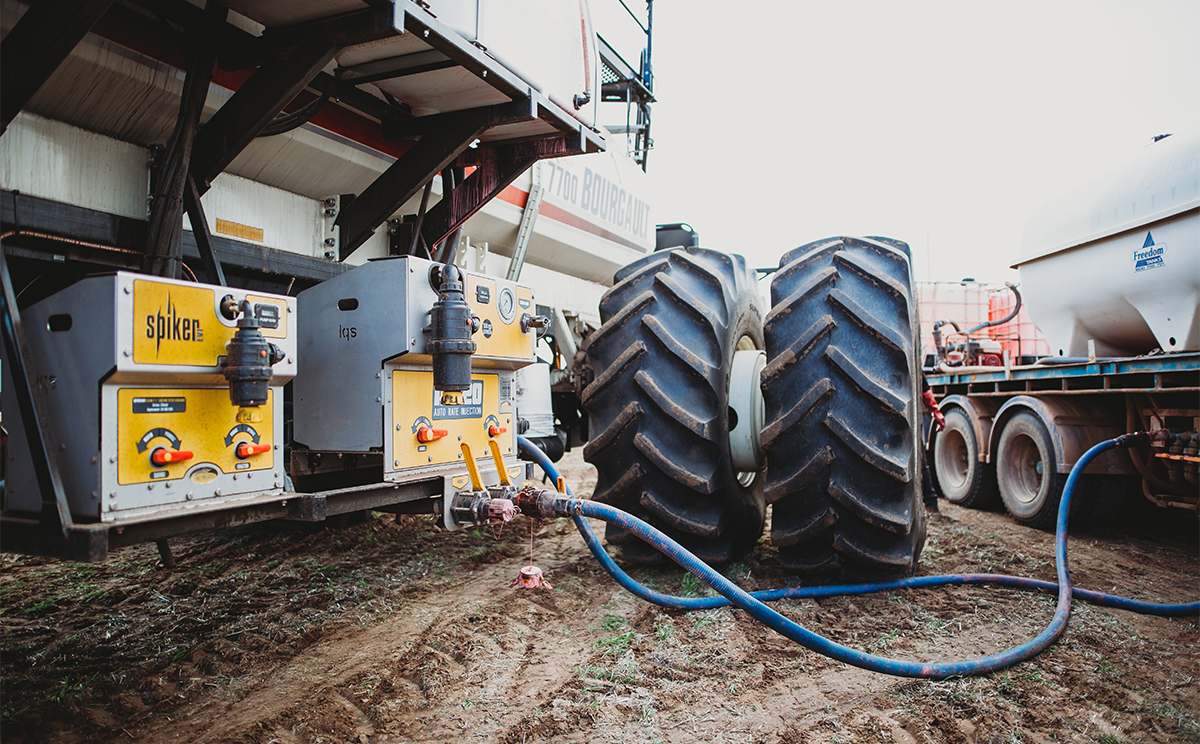 3 myths about liquid fert systems you shouldn't believe if you want better yields
By Peter Burgess, CEO, Liquid Systems (SA)
If you've been toying with the idea of a liquid fert system, it's time we debunked a few common misconceptions that might prevent you from taking the plunge.
Myth 1: Liquid delivery is all about fertiliser
When I started designing liquid systems in 1999, liquid fertiliser was the main game. It's why many farmers in Western Australia quickly transitioned to this technology. Thanks to tank farms set up by CSBP, WA farmers didn't (and still don't) have far to go to access UAN.
However today, half of our Liquid System (SA) sales have nothing to do with liquid fertiliser. Astute farmers are realising the benefits of fungicides, trace elements, inoculants, surfactants and soil conditioners, all of which can be delivered with our system at very low rates with row-by-row and second-by-second accuracy.
They know that prevention is better than cure and that targeting these products in-furrow can protect plants from disease, improve soil health and achieve improved yields. But you don't have to take my word for it. Mungindi farmer Lee Lonergan uses his liquid system to apply inoculants on faba bean and chickpea crops and had this to say, "Not only am I coating the seed, but I'm inoculating my ground as well. This gives the seed the most perfect little world to germinate in and it works remarkably well."
And then there's Andrew Hansen from Coomandook in the southern Mallee who applies zinc and fungicides to help combat rhizoctonia and other fungal diseases. Andrew says, "I imagine liquid fungicides are improving our yields by at least 13%, especially on the soil types that have low water-holding capacity."
Liquid delivery gives you the ability to address a range of problems associated with germination and soil health; it's not just about fertiliser anymore!
VIEW OUR CUSTOMER CASE STUDY GALLERY HERE
Myth 2: Liquid systems require expensive and complex infrastructure
Yes, if you plan to apply UAN via a liquid fert system, you'll need to invest in infrastructure to handle liquid storage, transport and tank filling. But if your focus is on the application of fungicides, trace elements and the other products I've mentioned, then it's likely you already have what you need. Our systems are designed to deliver very low volumes of product – 20-25l/ha of diluted fungicide and trace elements, for instance – which means you don't have to carry huge amounts of water. All you need is a water carrier, such as the fire-fighting equipment you already own or a saddle tank. Eyre Peninsula farmer Garry Baines even re-engineered a second-hand boom spray by simply removing the booms, which converted it to a portable batch tank. It does the job. He also uses a 25,000l heavy duty poly tank, which he already owned for the foliar application of UAN.
Even if you do invest in infrastructure, the costs are comparatively small. A trailer, tank and transfer pump won't set you back any more than $20,000. And the average cost of a complete Liquid Systems (SA) Kit is $20,000. That means setting up a sophisticated liquid delivery system that can positively impact your bottom line is less than the cost of a ute/pickup.
VIEW OUR CUSTOMER GALLERY HERE
Myth 3: Liquid systems are difficult to set up and operate
When it comes to inputs, switching to a liquid fert system is a new frontier for many farmers. But it's not the complex transition you might expect.
What's new to you, is years in the making for us and during that time we've developed the systems and support to pave the way. First of all, we provide a complete kit, engineered to deliver a targeted application of inputs with even and accurate distribution. Plus each module comes with a world-class manual that guides you step-by-step through set up, operation and maintenance. The other advantage is that our systems are all tamper proof, so you don't have to worry about any accidental damage. And if you happen to experience issues during set up or in the paddock, you can count on our superior back-up support. Our test facility in Adelaide is equipped with diagnostic tools that can simulate the issue you're experiencing in the paddock, so we can help you find a solution over the phone. We understand that seeding is time-critical, so we've put in the hard yards to ensure your switch to liquid delivery is not only smooth, but also successful.
VIEW OUR STREAM CONTROL VIDEO HERE
So, there you have it; three of the untruths about liquid fert systems that crop up time and again. Yes, we're in the business of selling liquid systems, but we're also passionate about helping your farm business prosper. And we believe a state-of-the-art, accurate in-furrow liquid fert system can make the difference.
Is there something else holding you back from switching to a liquid fert system? Please feel free to call me, Peter Burgess on +61 8 8357 4437 to discuss it further.
Get a Quote