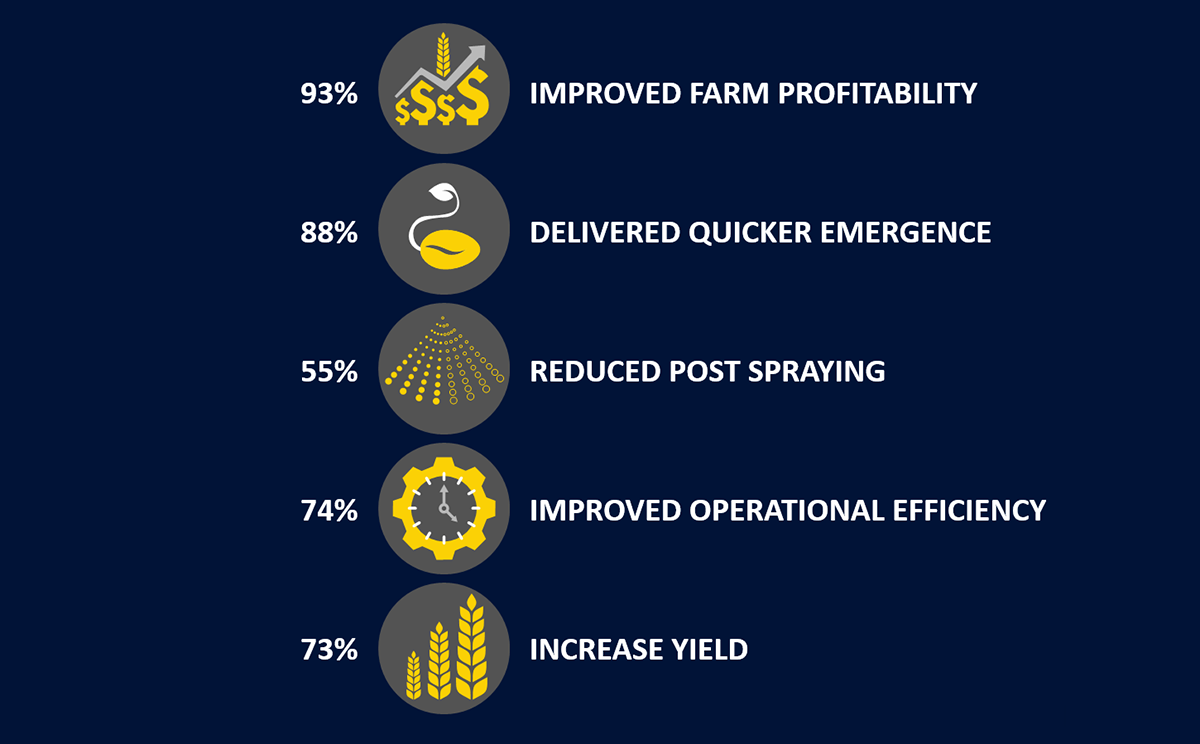 Survey Summary
Survey Results confirm and clarify the direction of In-furrow Liquid Application.
How many liquid products have you applied in-furrow in a single pass? If it's three or more, you're in good company.
A recent survey found almost 75% of customers use their Liquid Systems (SA) gear to apply three, four and even five or more products in one hit. So it comes as no surprise that 74% of those surveyed said using liquids had improved their operational efficiency, reducing fuel and labour costs.
The 12 question survey was designed to find out how customers use their equipment and the benefits they've seen from in-furrow application of liquid products. The top three benefits identified were:
The ability to apply multiple inputs in one pass (77%),
Targeted and even distribution of nutrients (73%),
Reliable operation (70%).
About 93% said farm profitability had improved with in-furrow application, which usually delivered quicker crop emergence (88%) and yield responses of more than 5% (73%). Many of those surveyed (18%) reported yield responses of 15% or above.
More than half (55%) indicated the use of in-furrow liquids had reduced how much spraying they had to do during the season.
Many of those who responded to the survey are long-term clients who were among the early adopters of liquid products in Australia: 28% have been a Liquid Systems (SA) customer for 5-10 years and 25% for more than 10 years.
Liquid Systems (SA) chief executive officer Peter Burgess said the survey results validated the course the company was taking.
"We were guessing what was happening out there before that," he said. "We were acting on (people asking) 'Can you do this? Can you do that? Can I put two systems in a row? Can I inject into a system with something else?' and that guided us on what to do."
The survey found the three most commonly applied products were:
Fungicides (60%)
Micronutrients (60%)
UAN (55%).
Mr Burgess said another interesting outcome from the survey was the high proportion of growers applying biological products, such as inoculants (33%), carbon products (10%) and live biologicals (9%).
"We knew UAN was popular, because it's a good carrier and doesn't deteriorate, but fungicides and micronutrients are right up there, too," he said. "It's also reassuring to know that so many of our customers are satisfied or very satisfied with our products."
Mr Burgess said he redesigned the whole range about two years ago because the company was building too many different systems. The streamlined catalogue now features four cabinets that can be daisy-chained together and easily upgraded to section control, multiple liquids or chemical injection.
"We have fast shutoff valves and controller options for multiple liquids," he said. "Hydraulic flow blocks that allow us to daisy chain pumps and modules together, so we can put three or four systems together, all working independently."
JANUARY 2022 SURVEY RESULTS BELOW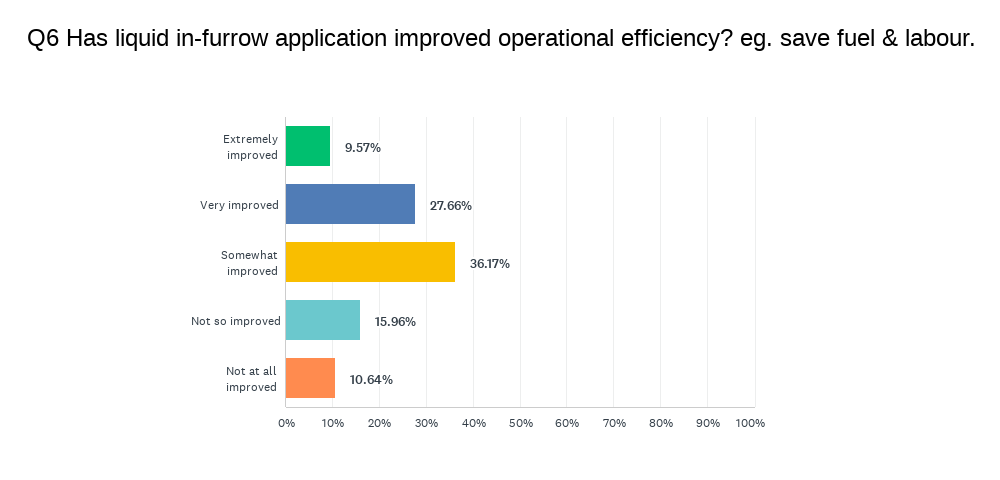 Liquid Systems (SA) Survey conducted via Survey Monkey, January 2022.
Get a Quote