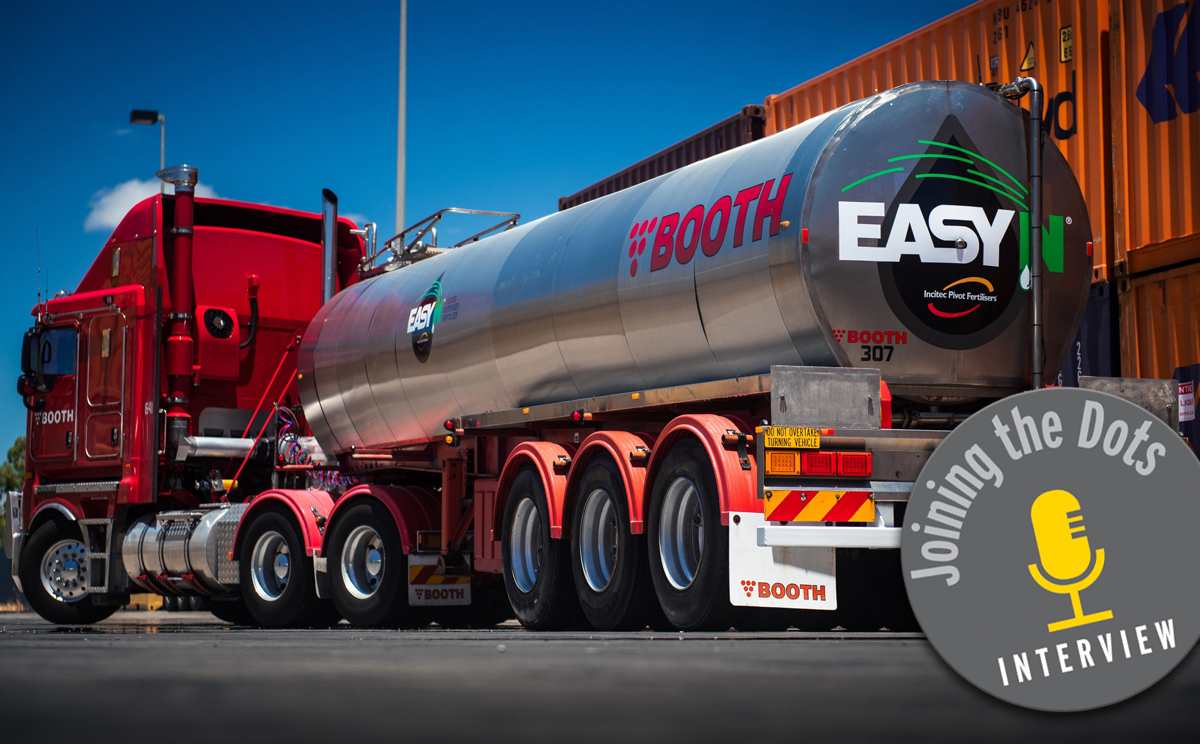 Joining the Dots – In-furrow Interview 2
Liquid Systems' Nicol Morrison interviews Ben Anderson, Liquids Product Manager from Incitec Pivot Fertilisers
Joining the Dots about In-furrow application aims to share tips and insights that might not be readily available.
Pictured Above: EASY N is distributed to end-users as either bulk in a tanker or in IBC shuttles.
What liquid products do you supply so far?
Ben
Currently, Incitec Pivot Fertilisers only supplies EASY N (UAN) but as part of our growth aspirations in liquids, we will look to increase this portfolio over time. This will include the capability to value add EASY N as well as expanding into other macronutrients.
What would you say are the key benefits of EASY N?
Ben
EASY N is a very versatile product and can be used for many different applications including pre-plant, in furrow, foliar or through irrigation. It has the ability to be stored on farm with minimal degradation which gives growers the opportunity to fill their tanks early and be prepared for the upcoming season. Our users also tend to like the simplicity of using EASY N and operational efficiencies they receive of using a liquid source of N.
How do you distribute your product to the end-users?
Ben
EASY N is distributed to end-users as either bulk in a tanker or in IBC shuttles. The majority is through bulk which can be done as single, b-double or road trains direct to the end user's tank from our port storage.
How do you deliver to farmer clients?
Ben
EASY N is easily delivered direct to farmer tanks from our port facilities. Once an order is placed our customer experience team and transport providers will arrange delivery to farmers' tanks taking the stress out of having to organise logistics. The product is then delivered in the requested size tanker and pumped into growers on-farm storage.
Where do you have Port storage?
Ben
IPF has bulk liquid storage available in Adelaide, Geelong, Brisbane and Cairns. IPF takes multiple cargos throughout the year to ensure continual supply.
Do you have regional storage?
Ben
We have our Strathmerton IBC hub and have the ability to access alternate up-country options during peak periods in key regions. Many of our EASY N agents also have their own storage tanks in regional locations to provide storage to their local users.  IPF is always reviewing regional storage options and it is potentially something we will enter into as we continue to grow our volumes.
Do you supply on-farm storage?
Ben
Although IPF currently does not supply on-farm storage we are happy to provide guidance on what is required for safe and effective storage and handling of EASY N. IPF's local agents are great sources for on-farm storage information as well as IPF's Liquid Development Managers, Daryl Higginson (0487 417 513) and Andrew Radywonik (0427 759 120).
Are there any issues or problems with liquid EASY N storage that farmers must be aware of?
Ben
One of the key benefits of EASY N is its ability to store compared to other nitrogen alternates. EASY N is able to be stored for 12 months or more without any deterioration or requiring agitation upon usage. This provides the benefit of being able to fill tanks early and be prepared for whatever the season or conditions may be. By using EASY N farmers are often able to pre-fill their tanks for their upcoming nitrogen requirements during quieter periods.
When mixing EASY N with alternate liquid products growers do need to be cautious of compatibility as this can impact the ability to be stored or efficacy of the final product.
Get a Quote